For its tiny size the Util-Lite MK1 has an amazing flashlight output on one end, using the next generation of LED that is comparable to flashlights five to ten times its size but that's not all, it also incorporates a windproof firelighter on the other end to make for one awesome, extremely portable and essential tool.
An amazing lighting efficacy of 154 Lumens per Watt!
Constructed of 300 Series Stainless Steel with a height, without the split ring of only 62mm (2.4″) and 14mm (0.55″) diameter. This Flashlight and Lighter combo is sure to become very popular. With an IP – Ingress Protection rating deemed to be IPX6, it is not only waterproof but unlike other popular liquid fueled lighters, can be carried in your pocket or stored with your camping equipment for a long period without the worry of lighter fluid drying out. The removable lighter insert allows it to also be used as a stainless waterproof steel pill vial or store safely whatever you want that can fit within.
You will love this product!
SUPER-BRIGHT: 180-lumen (max.) The Cree manufactured LED sweeps bright light over the length and breadth of an Aussie rules football field as tested and engineered below, (185m (607 ft.) x 155m (509 ft.). Features two adaptable settings: High & Low output as well as a plasma candle flame.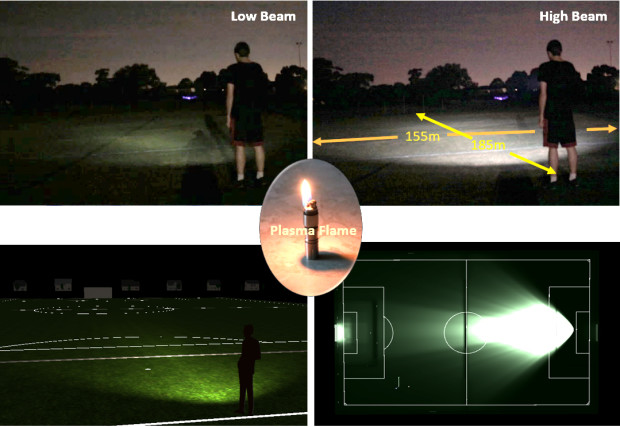 LONG-LASTING:
Up to 6 hours on low output, the Ulti-Lite LED flashlight delivers performance oriented features in a very sleek and compact design. This advanced lighting instrument is driven by the next generation of LED technology. The unique Multi-Mode Electronic switch offers two different power settings – a maximum-power setting that yields maximum brightness and then, 9% of the total power setting to conserve battery power for reading at night or for a prolonged emergency. Full output achieves 25 minutes of powerful, non-diminishing brightness from the included premium rechargeable 70mAh Lithium battery. The LED boasts an extended 50,000-hour lifespan. Recharge in just 35 minutes from dead battery with an included Micro USB cable and stainless steel attachable head.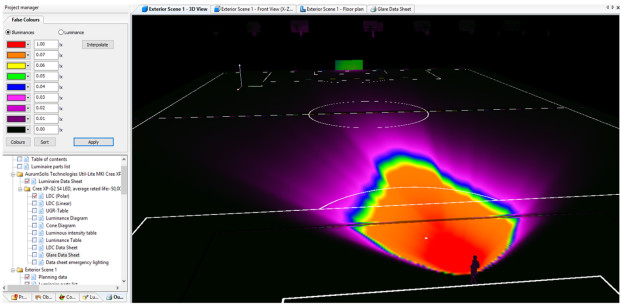 TOUGH & RELIABLE:
Deemed to be IPX6-rated water resistant and intrinsically safe designed for use in heavy rain. Its durable stainless steel body and shock-resistance endure extreme rough handling.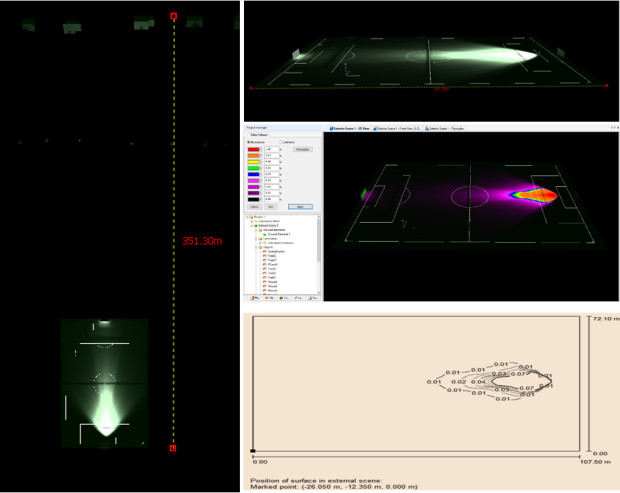 SMART DESIGN:
A pocket-friendly compact design, small and elegant enough that it can even be carried around as a pendant on a necklace, keyring fob, attached to your belt for fast access in your hand in an emergency.
WHAT YOU GET:
The minimum package includes the Util-Lite LED Flashlight/Firelighter combo, a 10180 rechargeable Lithium Cell battery, a stainless-steel charging head with charge indicator, an USB charging cable, a key ring attachment, spare gaskets, flints and a worry-free, 2-year warranty with friendly customer service.
The Util-Lite flashlight/firelighter is built to last. Whether you are using it as an everyday carry flashlight, or in an emergency, it will get the job done. Although extremely compact and small, it is also reliable, and ultra-bright. The Util-Lite features a keychain attachment and can be used as a pendant for a necklace, belt holsters, keyring or pocket clip.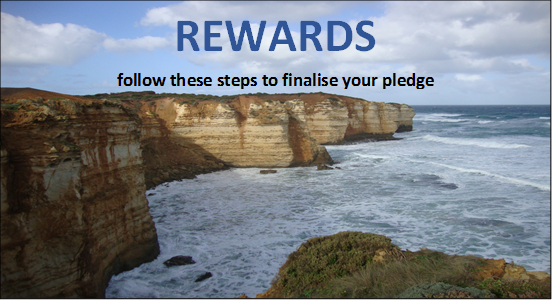 Featured Rewards
You can select any of the following rewards in order from most economical to expensive.
No. 1- Perk 1           Pledge $25 USD + Shipping
You get this amazing survival tool with 10 functions, if you venture outdoors this is for you. It is a 10-in-1 survival flashlight that also features a plastic housing with a storage compartment for the gadgets to be stored internally. The batteries for the LED flashlight are built-into the unit. It also has a compass, 2 rulers, as well as a small steel mirror. A magnesium fuel block and a flint are included for easy fire building. It also has a whistle and some great instructions for survival; such as how to make an SOS signal and an alpine rescue signal. You never know what kind of situation will come up when you're outdoors.
No. 2 – Util-Lite: -Flashlight & Firelighter with spare gaskets & flints for $68 USD + Shipping
Retail Price $89.96 (You save 32.3%)

No. 3 Add on 1 x Swivel Lobster Clasp Clip Hook for $1.99 USD
Plus, the Combo-Flashlight & Firelighter with spare gaskets & flints  Total $69.99 USD + Shipping

No. 4 Add on 1 x Swiss Quick Disconnect Key Chain for $4.95 USD + Shipping
Plus, the Util-Lite Flashlight & Firelighter with spare gaskets & flints
                  Total $72.95 USD+Shipping
39mm Barrel Length, 2 x 25mm dia rings

5/ Perk 2        Pledge of   $99 USD
You receive a Util-Lite plus the latest AurumSolis Technologies Research Newsletter, with this perk you not only get a Util-Lite but an up to date newsletter of our latest research and development of products, experimentation, yes everything that we are up to. Based on funding for this project, if successful, future plans include a simple antimatter demonstration rocket prototype refer http://www.academia.edu/28893955/Based_on_simpl… As well as many new "anti-gravity" designs and prototypes yet to be revealed. New videos, books and many other prospects not limited to wireless power transmission and even worldwide transmission. We have already achieved so much on a shoestring budget for example refer  https://antigravity.net.au/about-us/, imagine what can be done with your kind and precious support. We don't have huge over heads, and currently work day jobs to support experimentation, We have been supplying years of research funded by our own pocket available freely online as well as the endless help to students at universities and other organizations free of charge, all money received will now go into supplying products ordered and what we truly love – more research and development.

6/ Perk 3        Pledge of $500 USD
You receive a Util-Lite, the latest AurumSolis Technologies Research Newsletter, yes everything that we are up to plus, join our discussion group where you can discuss anything you want. Based on funding for this project, if successful, future plans include a simple antimatter demonstration rocket prototype refer http://www.academia.edu/28893955/Based_on_simpl… As well as many new "anti-gravity" prototypes yet to be revealed. New videos, books and many other prospects not limited to wireless power transmission and even worldwide transmission. If we could achieve so much on a shoestring budget refer  https://antigravity.net.au/about-us/  imagine what can be done with your kind and precious support. We don't have huge over heads, and we work day jobs to support experimentation, all money received will go into supplying products ordered and what we truly love – research and development.

7/ Buy 10, Get 1 Free (11 in total)
                               $680 USD + Shipping
Util-Lite: -Combo-Flashlight & Firelighter X 11
Retail Price $989.56 (You save 45.53%)

8/ Perk 4            Pledge of $1000 USD
­­­We have 9 books in various stages of completion.
With this perk your name will appear in the book of your choice as an acknowledgement to your support and you will also receive a copy of the book when published, fresh off the press and personally autographed with whatever message you wish. The books are in various stage of completion and include the following: -1/ Anti-Gravity experimental- how to book- 50% completion- John Iwaszko2/ Antigravity experimental compilation-100% needs to be digitalized-Adam Wasco3/ Low energy transmutation experimentation- 50%- John Iwaszko4/ Unified Wisdom of the Ages-80% – John Iwaszko5/ Folio of Invention researches & writings 80% – John Iwaszko6/ Lighting Basics-Practical Application Guide-Information that Illuminating Engineers & Lighting designers the world over find invaluable! – 90% – John Iwaszko7/ Tesla Coil calculations and secrets to build a proven design that achieves a 1.3 Million Volt Tesla Magnifying Transmitter as well as a 4000W Monster Jacob's Ladders made mainly out of scrap material -100% needs to be digitalized. – Adam Wasco8/Tesla coil powered flying saucer and modern electricity receiving circuits – 50%- John Iwaszko9/ The Mysterious Tektite featuring a recent Australite Collection from the Port Campbell region, Victoria, Australia up to date but still fossicking, researching and writing. – John IwaszkoPlease note that the names presented may or may not be the final selection of the book title and for now are mainly descriptive terms of what the books are about.The reason why none have been published till now is that we keep adding to them but could easily be completed as a first Edition. The way this perks works is that we find out what you-the customer want first so then will be forced to complete them by popular demand, we need your inspiration! Everyone that invests in this perk will be notified and the chance to change your mind about what book you want your name in. All these books have lots of new information that has never been released, prior and are destined to become classics.Some of these works are a compilation of over 30 years of work, trust me you will not be disappointed, it's our reveal to the world!

CLASSIC SIMPLICITY:
Twist the head to turn on, for a low output, half a turn more for high output, turn in the opposite direction for off, MODERN POWER Next-generation LED for a whole new level of brightness particularly for its size, is equal to many other flash lights five to ten times its size currently on the market, just compare the specs!
A state of the art LED light engine for unprecedented performance.
The opposing end includes a firelighter constructed of 300 Series Stainless Steel and can be carried in your pants pocket or stored with your camping equipment for a long period without the fluid leaking or drying out. This firelighter uses standard liquid lighter fluid that you will need to add on your own. It's also flat on the flashlight end so it can be used as a candle in an emergency or for that sporadic romantic moment, light a candle, a cigarette or whatever turns you on. The removable lighter insert also allows it to be used as a waterproof stainless steel pill vial.
Easy turn spark wheel, perfect for extended trips where you will need more than a few days of fire-starting.
Comes with Spare Flints + Spare O Rings
Features:
• Easy to use
• Powerful Projecting LED Beam
• 2 Selectable Modes:
High Power 100% 165 Lumens
Low Power (9%) 14 lumens
• Perfect Uniform LED beam
• Rugged, machined stainless steel case
• Compact design
• Powered by a single rechargeable Lithium Cell battery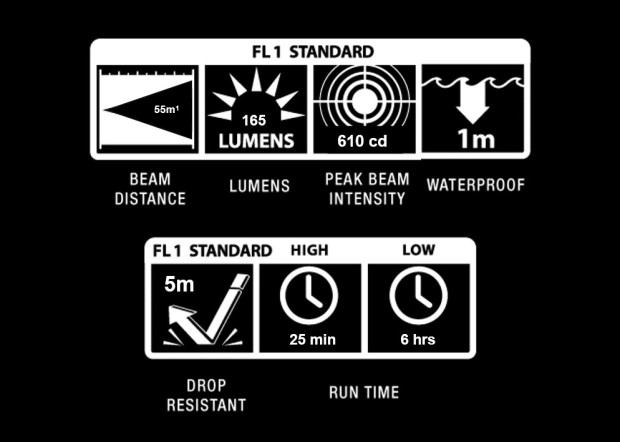 1. The Maximum beam distance is based on the minimum "obstacle avoidance" and "safety" illuminance (0.2 Lux) that is achieved at the stated beam distance. A mean illuminance level of 0.2 lx on the ground is considered to be sufficient to avoid striking obstacles based on experiments performed by Simmons (1975), Nikitin (1973), Jaschinski (1982), M.J. Ouellette and M.S. Rea (1989) et al. 0.2 lux is the recommended minimum illuminance for emergency evacuation and safety lighting as per many emergency lighting, safety standards and building codes adopted the world over including Australian & New Zealand Standard-AS2293, British Standard- BS5266-1:2011,European Standard- IEC 60598-2-22, Russian Daylight and Artificial Lighting emergency-SNiP23-05-95, etc.
Fire Up No Matter the Occasion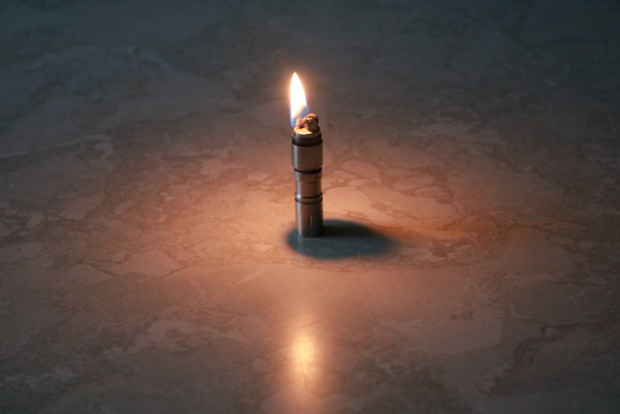 Regular butane lighters are riddled with problems – they don't work well in the wind or when they're wet, and they can run out of fuel without any warning. Have no fear, Util-Lite is here. Its high-intensity fire lighter flame – works in the wind, rain, and snow. Gasket sealed to prevent water going in or liquid flowing out.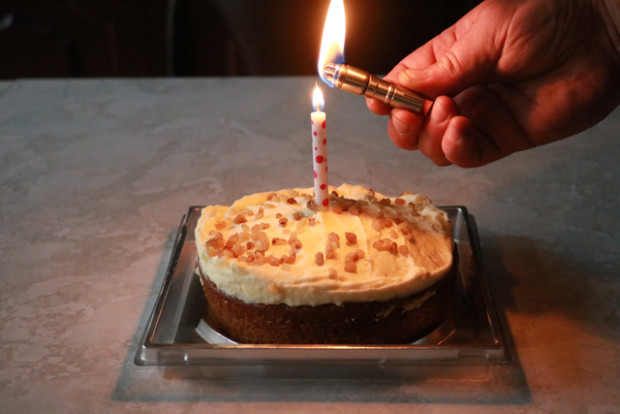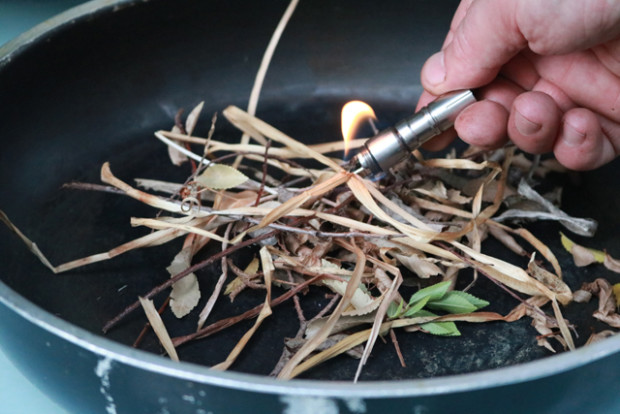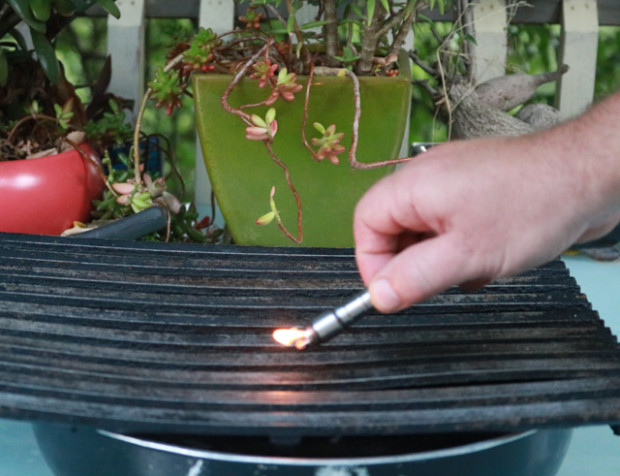 Also, this amazingly tiny configuration contains a 70 mAh rechargeable Lithium Cell (Li-Ion) with a proprietary circuit design that features reverse polarity diode protection, ensuring no accidental damage that also provides 2 levels of brightness (Low / High).
Twist on for Low that achieves 14 lumens output for up to 6 hours. Or then Twist 1/2 more of a turn for High mode which achieves an amazing specified 180 lumens, tested at 179 lumens maximum, (165 Lumens mean), output at 610 candelas- mean average for up to 25 minutes.
Three Ways to Light Up, 3 levels of Brightness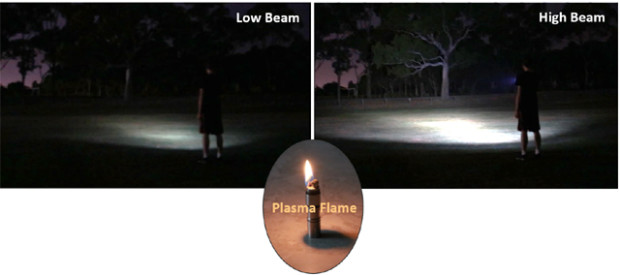 Chances are, if you're in need of a light, that you may also have need for a flame. That's why we decided to combine a high-efficiency next generation bright LED flashlight with a fire lighter.
FLASHLIGHT-2 brightness settings LOW & HIGH
WIDE ANGLE BEAM 120o max., 60 o mid-range and 18.2 o half beam, WITH UP TO a maximum specified-180 Lumens total Light output, the prototype, "the system", tested at an average of 165 Lumens, based on photometric bench tests -174 lumens, goniometer tests-169 lumens, and Integrating photometer-154 lumens, multiple averaged tests, with an accuracy of ± 3%. Therefore 149.4 % being the lowest possible lumens and 179.2 lumens, the highest based on many, averaged rigorous tests of the prototype.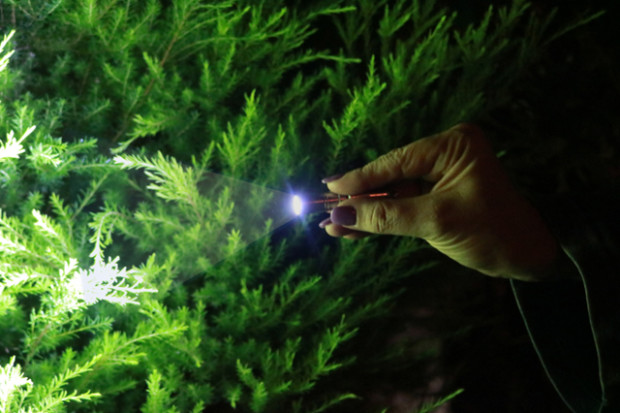 Small & light enough to wear as a pendant.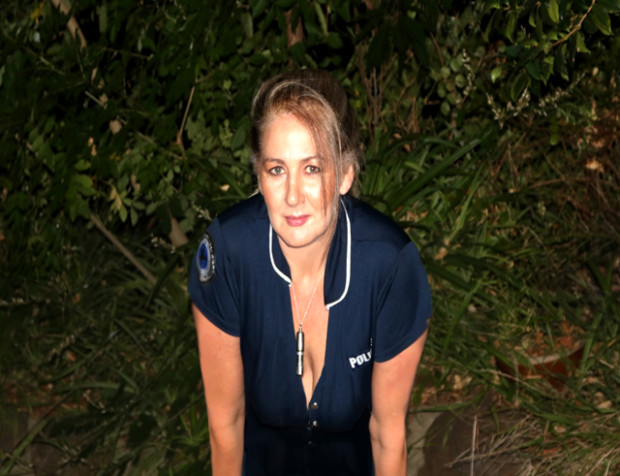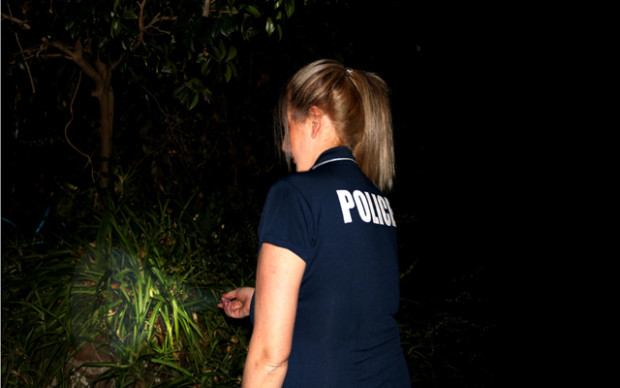 The tiny Util-Lite will emit up to 180 lumens of light in your hand, with its tiny size of only 6cm (2.4 inch) x 1.4cm (0.5 inch) nominal, making the most of the latest LED technology, comparable to many far larger flashlights, allowing you to confidently make your way through the dark. Choose from two brightness settings for a light that perfectly suits your needs. The Ultil-Lite ultilises groundbreaking AurumSolis Patented technology that achieve an incredible tested average efficacy of 154 lumens per watt at maximum brightness, with a colour rendering index, specified at 70, tested at 73.7 max, the Color Rendering Index (CRI) is a scale from 0 to 100 percent indicating how accurate a "given" light source is at rendering colour when compared to a "reference" light source. The higher the CRI, the better the color rendering ability, which is more than the previous record achieved with a huge High pressure sodium (SON) lamps, the most energy efficient light source known with a reasonable colour rendering index of only CRI 25, and achieved 120 lumens per watt and is over half way to the theoretical limit for a white LED with phosphorescence, between 260 to 300 lumens per watt. 1 You will be amazed at what this tiny flash light will achieve and even more so that it provides a source of flame as well. The maximum Beam angle (beam spread) is 120 degrees, the Full Width Half Maximum (FWHM) is 18.2 degrees, so you get the best of both worlds, an intense spot and wide flood.
Charge It On-The-Go

Rather than using a traditional flimsy micro USB port cover, we created a simple mechanism to keep your port free of dirt and dust. Just twist off the flashlight head and twist on the Micro USB charging port made of stainless steel. The additional charging head reveals the micro USB charging port to easily charge up your Util-Lite anywhere. It also indicates when charge is complete, red light indicates charging, green indicates charge complete.
RECHARGEABLE VIA USB
Charge Complete – Green Indicator
Charging – Red Indicator
Long Battery Life
The small 70 mAh rechargeable lithium ion battery can power the Util-Lite flashlight for up to 25 minutes on high and 6 hours on low. When not in use, the battery can hold its charge for up to a year.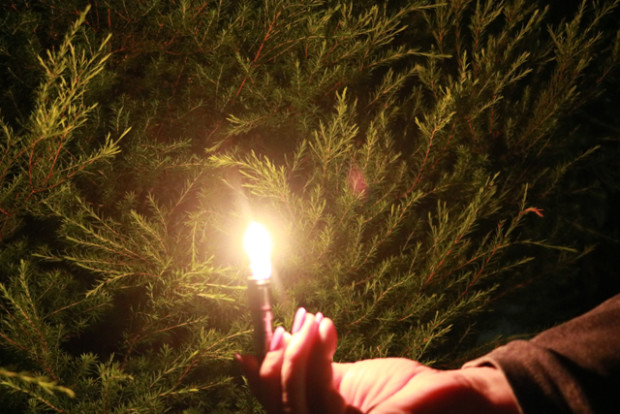 Durable stainless steel body, Tiny and Ergonomic

The Util-Lite was designed to be both a functional flashlight and a fire lighter (for a full list of features, please scroll down to the Specification section below).
The Body is made of highly durable, 300 series stainless steel. The lens cover has an ergonomically molded thumb grip to ensure comfort and easy turning when handling. The firelighter cover is a quick twist off and lock for covering the firelighter, when not in use, it is so seamless that most people would not believe that there is an additional compartment there that can also be used for storing pills or whatever you can fit within.
Does your precious pocket space belong to only the most useful and compact of tools? Well its exactly what I wanted and designed 27 years ago, if you want a lot of utility in the smallest package possible, the Util-Lite has been specifically designed for you.
With an ergonomic shape, it functions, much like a traditional flashlight, but it also has a built-in firelighter on the opposing end so that it can be used as a source of flame.
Fire up in Style

The Util-Light offers a classic look with improved function. It's smooth and robust stainless steel finish provides a premium and durable feel. The Stainless-steel casing is ideal for a robust highly durable tool. It also allows the lighter to take a form that will feel good in your hand and your pocket. Safe, simple and sleek – this flashlight and lighter will be sure to turn a few heads.
A light when you need it most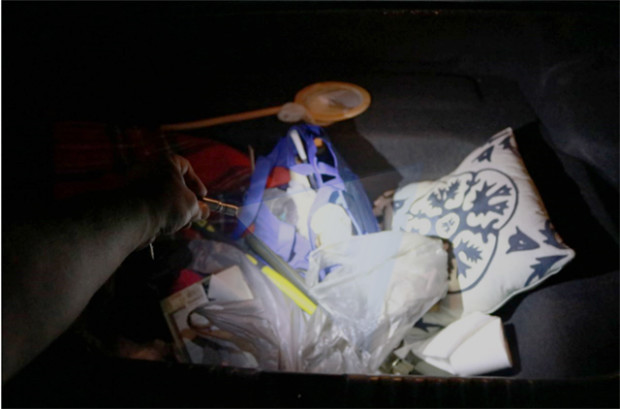 Never be caught in the dark again. The Util-Lite is small enough to carry with you wherever you go. Anyone got a light? You will have both.
An Everyday Carry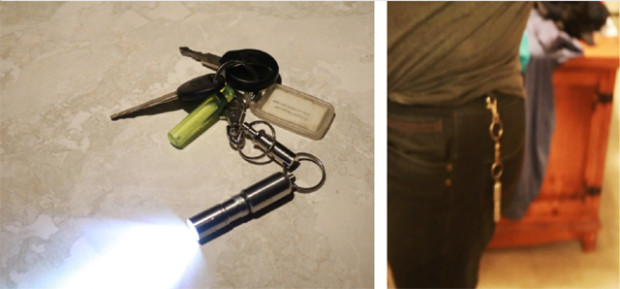 The Util-Lite is compact enough for a pocket but also powerful enough to withstand the wind, rain, snow and light up your surroundings. Taking up minimal space in your pocket, purse or pack, this high-power firelighter and flashlight combo is ready whenever you need it. No more worrying about running out of fuel – just charge it up while you sleep, fill up with lighter fuel and you're set for many days.
SPECIFICATIONS
Patent Pending and Registered designs applicable, Intellectual property protected Patents Application (IP right number) 2017900558
•           Length: 62 mm (2.4 "), Diameter: 14mm (0.55 "), Weight: 33 grams (1.2 ounce) with battery and fully fueled.
•           MOL including key chain hole is 65.5mm (2.6 ")
•           LED Type: Cree XP-G2 S4 with an average rated life span of up to 50,000 hours. (Contains the latest Brightest Emitter) 180 lm @25oC, 164 lm @ 85oC
•          5700K daylight colour temperature, (prototype tested at 5739K) with a colour rendering index minimum of 70 tested at 73.7.

Key to the amazing efficacy of 154 Lumens per watt are two major peaks of the LED spectrum, one at 555 nm, which corresponds to the peak average spectral sensitivity of human visual perception of brightness in the yellow green region of the spectrum that extends to the red but not too far towards the IR which is invisible to the human eye and is experienced by humans as heat, as well as a higher peak in the blue region that makes the combined light appear white to human eyes as per the CIE 1931 or CIE 1976 color space coordinate system-refer below, a quantitative link between physical pure colours (i.e. wavelengths) in the electromagnetic visible spectrum, and physiological perceived colors in human colour vision. The combined spectrum maximizes efficacy without compromising the colour the human eye perceives, to achieve a good daylight colour with good colourr endering CRI of 70+.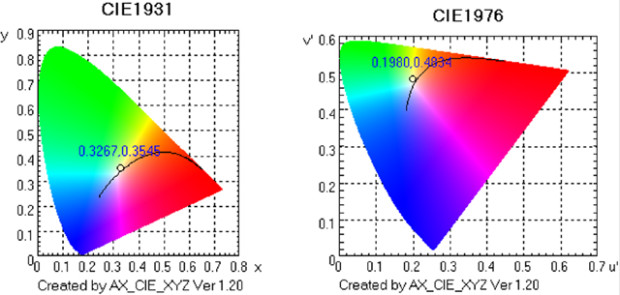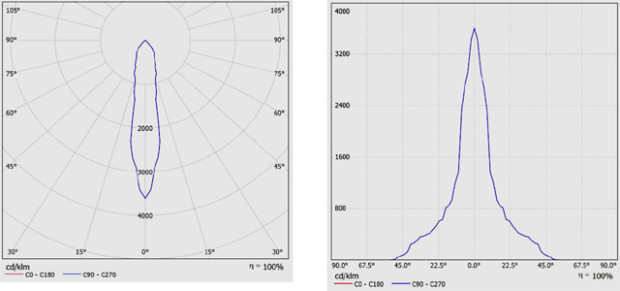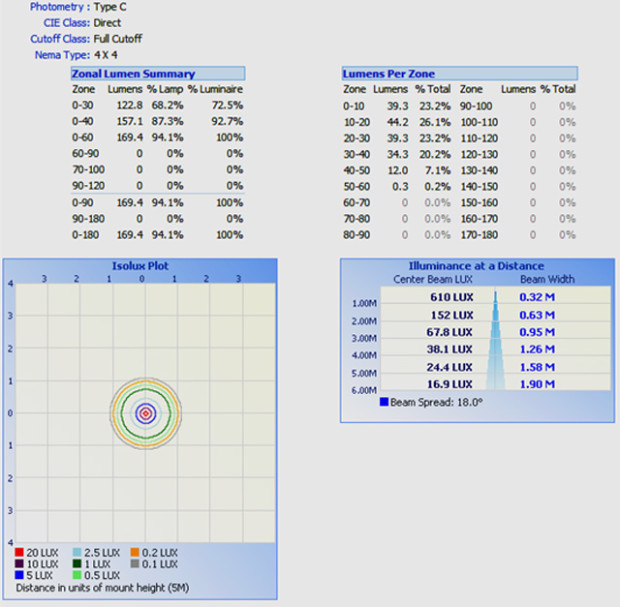 •           The reflector is aluminum alloy with an Orange Peel patterned texture that disseminates the beam achieving a slightly wider but very smooth and uniform beam dispersion of the light projection.
•           The lens is treated with an AR (Anti-Reflective) coating.
•           Flashlight body is made of 300 Series Stainless Steel alloy which resists corrosion, maintains its strength at high temperatures and is easy to maintain. This alloy is predominantly used in the automotive, medical, marine, aerospace, construction industries for corrosion-resistant tools, food handling and cutlery industries for is strength, longevity and is notable for its corrosion resistance. Stainless steel does not readily corrode, rust or stain.
•           Battery is 10180 Lithium Cell rated at 3.7V and 70mAh.
•           Recharge Time is 35-55 minutes from a completely flat condition.
•           Its proprietary circuit design features reverse polarity protection and runs off one 10180 battery that provides 2 levels of brightness (Low / High).
– Twist on for Low
– Twist 1/2 turn more for High
•           Using a single 10180 battery achieve the following results:
Low mode, 14 lumens output for up to 6 hours
High mode, 165 lumens (mean) output for up to 25 minutes
•           minimum 164lm @85oC or 180 lm @25oC 5700K
•           Flat on the end so it can be used as a candle in an emergency.
•           Extra O-Ring gaskets supplied
Complete Kit Includes:
•           1x Lithium Rechargeable Battery
•           1x USB Charging Cable
•           1x Charging SS Head with Charge indicator
•           1x Util-Lite Stainless Steel Flashlight/Firelighter Head & Body
•           5x Spare O-Rings for the Flashlight section
•           2x Spare O-Rings and 2x extra flints for the Firelighter section
Note: -The firelighter section uses standard liquid lighter fluid that you will need to add on your own.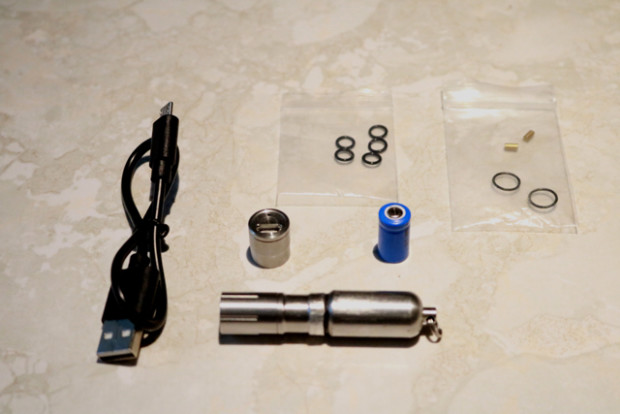 THE LIGHT SOURCE
The LED XLamp® XP-G2 LED builds on the unprecedented performance of the original XP-G by increasing lumen output up to 20% while providing a single die LED point source for precise optical control. The XP-G2 LED is the ideal choice for lighting applications where high light output and maximum efficacy is required, such as LED light bulbs, outdoor lighting, portable lighting and indoor lighting.
•           RoHS and REACh compliant
•           UL® recognized component (E349212) Underwriters Laboratories (UL ) Functional Safety Component Recognition
THE RECHARGABLE BATTERY
·         10180
·         3.7 Volt Li-Ion Battery
·         A specialty compact battery, the 10180 is a rechargeable Lithium Ion cell that offers 3.7 Volts of power. Ideal for use in devices customized to accommodate batteries without PCB (Printed Circuit Board) units. It can be used to create custom battery packs for specialty devices. With 70mAh capacity, the 10180 will keep your uniquely styled electronics running longer and stronger than the competition.
Specifications:
·         Size: 10180
·         Chemistry: Li-Ion
·         Voltage: 3.7V
·         Capacity: 70mAh
·         Terminal: Button Top
·         lithium-ion safety warning
·         Battery Size: 10180
·         Battery Capacity:      70mAh
·         Battery Chemistry:   Li-Ion
·         Battery Voltage:        3.7
·         Battery Terminal Type: Button Top
·         Warranty:       Battery Junction 30-Day Warranty
·         UPC:  6957883810001
·         MPN:  10180-BATTERY
DESIGN STORY
The "Util-Lite" as presented to you, began evolution from around 1991, 27 years ago, when I desired to own a useful, bright flashlight small enough to fit on a keychain and/or be comfortable enough within a tight pocket. I believed that such an instrument would already be on the market and that I should be able to purchase it and was just a matter of finding it. I then examined and purchased every small torch I could find and was somewhat disappointed with them all, either they were not robust enough, some made from plastic or the shape not ergonomic or aesthetically pleasing to me, worst of all, most didn't provide a useful illumination.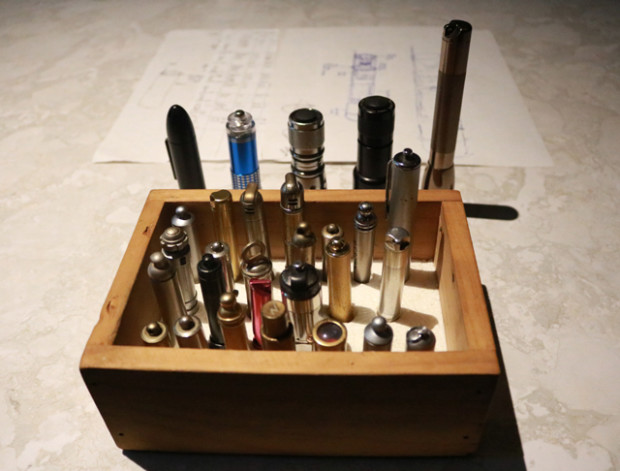 It was during this time, that I began to make by modifying commercially available flashlights combining the best of certain feature that I tested in field and found desirable. There was no internet as we know it today, at the time, the internet, only communicated 1% of the information flowing through two-way telecommunications networks but as I was in the lighting industry I was lucky enough to have access to many light source catalogues from all over the world, therefore access to specialist medical, indicator, optical and scientific light sources that could make a tiny flashlight more useful. I began to evaluate, calculate lifetime and hours of use over brightness and catalogued all useful light sources I came across.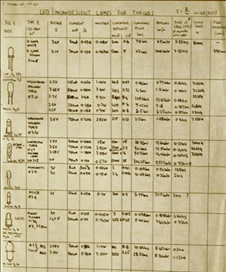 I also experimented with a variety of multi flashlight/spark/laser/firelighter/ultrasonic configurations including a laser/flashlight/firelighter as well as a laser/flashlight/electric plasma and many other combinations that used different light sources from incandescent, using halogen, krypton and xenon lamps, multi LEDs or single high brightness LEDs. From around 1994, I mainly used LED/s as lowlights, I also developed multiturn laser filter pattern generators. I then began to use high brightness LED's in my own flashlight, years before they became commercially available. I settled on a compact tubular bullet shaped design, that would accept either AAA battery, LR44 cells or the most powerful lithium batteries as they became more commonly available.
I then began to combine and later modified several features based on tried and tested usefulness, such as a variety of multisource laser/flashlight spark/arc or firelighter sources that I carried around with me to determine an unbiased usefulness and show people, to see their interest and if they would ask me to make one for them, which many did.
One early prototype version that I unintentionally filmed, can be seen, used as a light pointer in my "antigravity" videos, – "ANTIGRAVITY"- The Reality, originally filmed between 1991 to 1996, with 15 methods of levitating an object known to myself with heavier than air devices usually referred to as "anti-gravity" as they achieve flight without propellers, jets or rocket propulsion, click on this link. https://www.youtube.com/user/JOHNROMANIWASZKO
Video's shown on YouTube were filmed from 1991 to 1996, where I use a prototype of the "Util-Lite" multi-light source as a pointer.

Prototype "Util-Lite" left, from a video in the 90's, with Laser diode, middle, focusable flash light head where I can be seen focusing the output incandescent light source head at 0.10 to 0.13 refer "Antigravity" Method video 1b of 15 and right, high brightness blue/white LED

Prototype "Util-Lite" left, from video in the 90's, with High Brightness Red LED, middle and right, pin point output RED laser diode.
The original inspiration of this series was to show interested people "REAL" experiments that can levitate objects, real is defined as "SCIENTIFIC" experiments that are repeatable by others.
Over the years, I also experimented with many other interesting projects. From antigravity, Tesla Coils, wireless electricity, extremely efficient light sources, robots, nuclear fusion etc. Refer our web site "about" page to site a glimpse. https://antigravity.net.au/about-us/



The "Util-Lite" we offer you is based on an extremely portable, ergonomic light source made of robust stainless steel, as I found that many coatings on other metals wear, rust and chip, aluminium the most often used metal, for so called "robust" flashlights, even anodized, easily dents and scratches. I have also utilised the latest LED technology with two useful brightness's as well as a useful firelighter, the very basic requirement based on my own experiments and market research.

After many years of road testing, and mainly popular demand, I decided to turn my own unique project to work and put the Util-Lite in everybody's pocket or keyring. I wanted others to take advantage of something that I found ideal in my adventures, for everyday use at home or work. After testing, many of the current solutions on the market, I started to narrow in down to what I found that I liked and didn't like with all the other products, I road tested.
I also took many flashlights and lighters apart to see how I could make them more versatile and compact. After many years of rigorous testing and prototyping, I decided on a single unit, with more features on future products that will of course be larger in size.
After deciding on a specific look, I built a prototype based on what I found to be the most pleasing and aesthetically desirable shape. This took years of hard work.
Putting the Prototype to the Test
I spent many years road-testing various designs, I do a lot of fossicking for meteorites and tektites in extremely harsh Australian conditions on a regular basis and have found the prototype an extremely great asset in times of need particularly when walking the dog at night, on camping trips, TV cable device fault finding and looking for tektites and meteorites.
I have personally used the prototype over many years in real world scenarios from campfires to candles and had a great time with it! Thanks for taking the time to learn more about our amazing product and the story behind it. I wouldn't be here without your support.